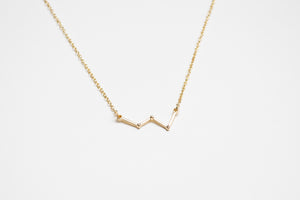 Cassiopeia Necklace
Regular price
$25.00
$0.00
Unit price
per
In mythology, Cassiopeia was the wife of King Cepheus (represented by the neighbouring constellation Cepheus in the sky) of Ethiopia. Once, she boasted that she was more beautiful than the Nereids. The Nereids were the 50 sea nymphs fathered by the Titan Nereus. They were enraged by Cassiopeia's comments and appealed to Poseidon to punish Cassiopeia for her boastfulness. Poseidon was married to one of the nymphs, Amphitrite.
The sea god obliged and sent Cetus, a sea monster represented by the constellation Cetus (the Whale), located in the same region of the sky, to ravage the coast of Cepheus' kingdom. Cepheus turned to an oracle for help and the oracle told him that, in order to appease Poseidon, he and Cassiopeia had to sacrifice their daughter Andromeda to the sea monster. Reluctantly, they did so, leaving Andromeda chained to a rock for the monster to find. However, she was saved in the last minute by the Greek hero Perseus, who happened to be passing by, saw Andromeda and rescued her from the monster.
Perseus and Andromeda were later married. At the wedding, one of her former suitors, named Phineus, appeared and claimed that he was the only one who had the right to marry Andromeda. There was a fight and Perseus, desperately outnumbered, used the head of Medusa, the monster he had recently slain, to defeat his opponents. One look at Medusa's head turned them all into stone. In the process, however, the king and queen were also killed because they did not look away from the monster's head in time.
It was Poseidon who placed Cassiopeia and Cepheus in the sky. Cassiopeia, the myth goes, was condemned to circle the celestial pole forever, and spends half the year upside down in the sky as punishment for her vanity. She is usually depicted on her throne, still combing her hair.
Charm is 1 inch long
Chain is 18 inches, adjustable up to 20 inches
---
Share this Product
---