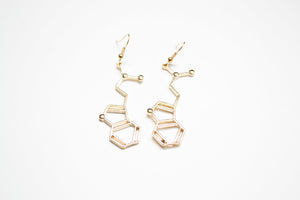 DMT Earrings
Regular price
$25.00
$0.00
Unit price
per
N,N-Dimethyltryptamine (DMT or N,N-DMT) is a psychedelic compound of the tryptamine family. It is a structural analog of serotonin and melatonin and a functional analog of other psychedelic tryptamines such as 4-AcO-DMT, 5-MeO-DMT, 5-HO-DMT, psilocybin (4-PO-DMT), and psilocin (4-HO-DMT).
It is consumed by indigenous Amazonian Amerindian cultures through the consumption of ayahuasca for divinatory and healing purposes.
DMT was first synthesized in 1931 by Canadian chemist Richard Helmuth Fredrick Manske (1901–1977). In general, its discovery as a natural product is credited to Brazilian chemist and microbiologist Oswaldo Gonçalves de Lima (1908–1989) who, in 1946, isolated an alkaloid he named nigerina (nigerine) from the root bark of jurema preta, that is, Mimosa tenuiflora. 
Since 1955, DMT has been found in a host of organisms: in at least fifty plant species belonging to ten families, and in at least four animal species, including one gorgonian and three mammalian species. DMT is known as the "Spirit Molecule", according to Rick Strassman, M.D., since it is "found in all living things", secreted by the mysterious pineal gland of mammals.
---
Share this Product
---